Introduction to Seminars

Introduction to Seminars
These seminars have been arranged throughout the UK to provide delegates with an increased knowledge of the confirmed changes made under the 17th Edition Wiring Regulations Amendment 1, due for release on 1 July 2011.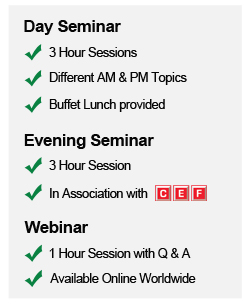 About
These events will cover all of the practical implications of the changes, and also provide the opportunity for delegates to share information with fellow professionals.
Choose from three different formats including a day seminar, an evening seminar, or, an online-based webinar. For further information on each event, please select the relevant tab above.
Dates and Registration
Specific venues and times will be confirmed to all delegates via email two weeks prior to each event. With limited numbers available we recommend you book your place as soon as possible to avoid disappointment.
To book online, select the relevant 'BOOK' on the table below.
Venue
Date
Day Seminar
(Morning)
Day Seminar
(Afternoon)
Day Seminar
(All day)
Evening
Seminar
Webinar
Burnley
6 July
£40
Milton Keynes
20 July
£40
£40
£75
Online
21 July
£10
Swindon
28 July
£40
£40
£75
London
02 August
£40

£40

£75

Scarborough
04 August
£40
£40
£75
Manchester
11 August

£40

£40

£75

All of the above courses have now been completed. .

However Amtech are planning on hosting further 17th Edition Amendment 1 seminars in late 2011. To register your interest in an event in your area, please click here to send us your details and we will contact you very shortly.

Thank you.